Home Products SHOP NOVA PARTS DIRECT WOOD BLANKS WOOD BLANK, ARGENTINE OSAGE ORANGE 1.5″x1.5″x12″ SPINDLE (9126)
WOOD BLANK, ARGENTINE OSAGE ORANGE 1.5″x1.5″x12″ SPINDLE (9126)
Argentine Osage Orange
Common Names: Argentine Osage Orange, Fustic, Yellow Mora
Scientific Name: Maclura tinctoria
Janka Hardness: 2,380 lb
Region of Origin:  Tropical America
Workability:   Due to its hardness and density, this can be slightly more difficult to work than most woods.  This wood does not tend to dull tools.
Color/Appearance: Golden yellows that darken over time to a brown.  This color change can be delayed with UV inhibitors.  This wood has a delicate, interlocked grain texture.
Odorless
Toxicity:  Safe to work with. There are No reported health risks.  It is always recommended to wear a dust mask or respirator when sanding and finishing with chemicals.
All NOVAs turning woods have a Sustainable Rating, NOT THREATENED. This material does not fall on the CITES list or IUCN list of threatened species.
In stock
Product Description
We make turning easy; our NEW! NOVA Premium Woodturning Blanks are now available to order and can be shipped direct to your front door! These beautiful pieces will be able to be transformed into whatever you can imagine. All NOVA blanks are surfaced on one side and coated as part of our premium selection process. We seal our bowl and spigot blank ends with wax to slow the natural drying process down while hand-checking for hidden cracks.
(Please note our pen blanks do not come wax sealed.)
To ensure a quality product is delivered to you, we also check for moisture content before shipping and note moisture for each type of wood grain in your order. Each type of piece also comes furnished with a product/wood species information card.
Please keep checking back as we are adding new wood types to our direct-to-door available selection all the time!
Each blank includes Free Shipping within the continental US (2-day air single blanks or via UPS ground for multiples.)
If you'd like to mix and match your blank assortment, please call customer service for specific pricing.
Please note due to the nature of the product, all sales are final, with no refunds, returns, or exchanges on any wood products.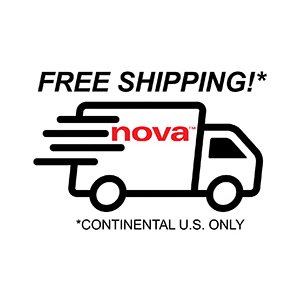 Only logged in customers who have purchased this product may leave a review.