Home Products SHOP NOVA PARTS DIRECT SALE NOVA INFINITY BOWL JAW SERIES #6 (SKU 8306)
Sale!
NOVA INFINITY BOWL JAW SERIES #6 (SKU 8306)
The NOVA Infinity Quick Change delivers fast and positive jaw changes which is much faster and less hassle than the screw fastening method with the older NOVA chuck models and other chuck brands. The NOVA Infinity Jaw Key and Infinity Jaws Slides are a precision cast metal amalgam 3 times the tensile strength of machine grade steel. Jaw Key positively taper locks into Jaw slide with an embedded dovetail design. A stronger and more rigid bond than the original NOVA Screw on Jaws. The Infinity Jaws are cam locked inline with the forward rotation of the chuck. They are safe to use at higher speeds and with larger turning work. The Infinity Jaws are larger, more robust and rigid than the older jaw designs, providing enhanced workholding and turning possibilities. The Infinity Jaws use the well proven NOVA Dovetail Profile, designed to grip the wood firmly for added safety.
The NOVA Infinity Bowl Jaws #6 are capable of holding:
Contracting Grip: Ranges from 3.503 to 4.291
Expansion Grip: Ranges from 4.685″ to 5.472
The standard equipment includes 4 x #6 Infinity Bowl Jaws Segments, 1 x Quick Start Instruction Manual.
In stock
Product Description
Infinity Chuck Jaw designed to hold large bowls, plates & platters.
External dovetail to grip internal bowl recess. Internal dovetail to grip bowl foot. Able to grip round dowels. Capacity overlaps #5 Bowl jaws
Heavy section deep jaws for maximum strength & rigidity
Much more robust & handle larger, heavier work – Up to 40% thicker base, 40% wider face, over twice dovetail depth of traditional JS130N Jaws
Not recommended for Nova Midi or G3 Chuck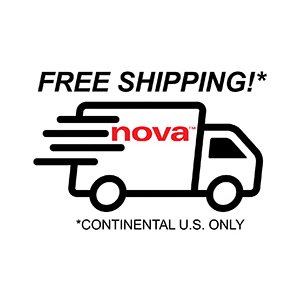 IMPORTANT NOTICE
Safety Advisory! Only use authentic NOVA accessories on your NOVA chuck. Using non genuine NOVA and copies of accessories could lead to operation and safety issues and will void our market leading warranty. NOVA accessories are designed for use only on NOVA Chucks. Do not use on any other chuck.
California Residents Proposition 65
WARNING: Drilling, sawing, sanding or machining wood products can expose you to wood dust, a substance known to the State of California to cause cancer. Avoid inhaling wood dust or use a dust mask or other safeguards for personal protection.
WARNING: This product can expose you to chemicals ​(Rust Prevention Oil) ​which are known to the State of California to cause cancer​. ​Always wash your hands after unpacking the product for first use and use in a well ventilated area. Dispose of packaging bags thoughtfully.
For more information go to: P65Warnings.ca.gov