Home DRILL PRESS ACCESSORIES VOYAGER FIRMWARE UPGRADE FREE NOVA VOYAGER DVR DRILL PRESS FIRMWARE UPGRADE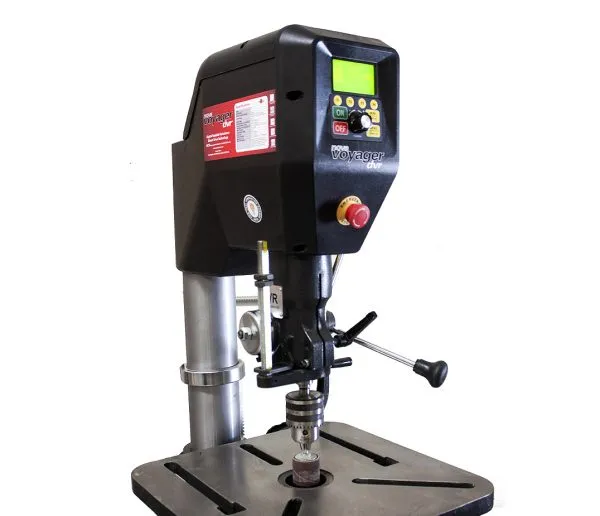 FREE NOVA VOYAGER DVR DRILL PRESS FIRMWARE UPGRADE
Free download. Please make sure you download both the latest Windows version and the Firmware Update Instructions. Video instructions are available in the video tab. With just a few simple steps, you'll have the new firmware in minutes. See list of new features below.
Product Description
System Requirements:
Windows 10 (and later) delivers the best firmware experience. Previous versions of Windows may work but are not supported by Teknatool. For the upgrade process to go as smoothly as possible, we strongly recommend Windows 10 and later. Firmware for Apple/Mac is not available at this time.
Downloads:
Click here to download the latest Windows version (US) (Without Chuck Guard)
Click here to download the latest Windows version (EU) (With Chuck Guard)
Click here for the firmware update instructions
Download the new interface features pdf here
Q: How do I know which firmware upgrade to use (US or EU)?
A: If you are in Australia or New Zealand, please use the USA version of the firmware. The European firmware has an additional switch on the chuck guard as required by European law. This switch is not present on the Australian and New Zealand models, so if you use the EU version, you may be locked out of the machine if you try and use it.
The version information of your drill press has 2 parts and can be found by pressing Menu>Configuration>Version Info.
8.XX would be an example of the main board firmware (for example, 8.21c).
R2P04x or R2P05x would be an example of the HMI/front control panel firmware (for example, R2P04p).
To check which firmware you are running go to: Menu>Configuration>Version Info
You can revert to your original version software at any time. This file is included in the download. Follow the same instructions as above (Firmware Update Instructions).
---
If an error occurs stating "missing mfc120.dll file":
1.  Run the appropriate installation file under the folder names "If missing DLL files, install this" You will have to determine the type of operating system that you have on your computer. You will need to run vcredist_x64.exe for 64 bit operating system and vcredist_x86.exe for 32 bit operating system. To determine if you're on a 32bit (x86) or a 64 bit (or x64) operating system see: http://support.wdc.com/knowledgebase/answer.aspx?ID=9405
2. Run NOVA_SETUP.exe again
For additional info regarding the upgrade process see our FAQ help pages below or see the video in the video tab of this page:
https://teknatool.freshdesk.com/support/solutions/articles/19000054130-firmware-update-procedure-faq
https://teknatool.freshdesk.com/support/solutions/articles/19000098867-voyager-upgrade-procedure
New Features Introduced in the New Version 5 HMI Firmware Upgrade
For a comprehensive list of the new features:
Download the new interface features pdf here

With the introduction of the version 5 HMI firmware, a revamped interface display is introduced to the NOVA Voyager DVR Drill Press.
• Completely redesigned user interface display with more intuitive menus
• Switch between "Set Speed" and "Set Depth" adjustment modes straight from the main screen
• "Precision" mode has been introduced, allowing users to set the target depth in finer increments
• Fractional display for imperial units have been introduced
• "Stop & Reverse for 6 seconds", A new Digital Depth Stop function has been added
• A new F-button shortcut is now available which can be used to set the current depth reading as your target depth
• The password function can now be used to lock most settings in the menu but still let user operate the machine
• A new Power Spindle Hold mode has been introduced for keyless chuck users
• Custom drill press speed limit and output power limit can now be set
• Custom drill press speed limit and output power limit can now be set
MINOR BUGS AND FIXES TO ALL PREVIOUS VERSIONS HAVE BEEN MADE.
Specific fixes noted below for previous and current firmware versions:
R2P05x
French language has been corrected.
US – R2P05t
– Added French language option
EU – R2P05t CG
– Added French language option
R2P05n (US version)
– Disabled chuck guard EMS
R2P05m (Europe version)
– Added anti-tear out mode (may need a better name) version 1.00
– Can enable/disable
– Depth options of: SET -1/-2/-5mm or SET -1/16th -1/8th -1/4th
– Enabled chuck guard EMS
R2P05l
– Changed power spindle hold to be adaptive power setting
– Minimum pow: increase to 15%, maximum pow: 25%
R2P05j
– Enabled German as a language option
R2P05h
– In the F shortcuts, changing units cycle between all 3 options now
– Added shortcut description text to bottom for F keys
R2P05g
– Fixed issue with depth stop not always working
– Allows a "reverse to top" option

Additional Older Software Versions:
R2P05i – May 30th 2017
R2P05h – May 10th 2017
R2P05f – April 7th 2017. Important: A software bug has been identified in software version R2P05f. When drilling with the electronic depth stop, the drill press will not stop on some situations. Upgrading to the latest version will solve this issue.