Home Why a NOVA Chuck?
Why a NOVA Chuck?
NOVA CHUCKS: AN OVERVIEW
We've been making Woodturning equipment for over 30 years, and were the first company to introduce one of the biggest innovations for woodturners; the 4 jaw self centering chuck, with the NOVA chuck back in 1988. This chuck revolutionised how work was held in Woodturning. We were recently recognised with an Award from WOOD magazine for being one of the top 25 innovations in Woodworking (.pdf) over the past 25 years. We continue this proud tradition of innovation, quality and best value in modern NOVA chucks today.
Download the latest Chuck Catalog HERE (.pdf)
Today, we have 5 chucks in the NOVA Chuck Family:
NOVA Precision Midi Chuck
NOVA G3 Chuck
NOVA SuperNova2 Chuck
NOVA Titan Chuck
NOVA Quick Change Chuck
The G3, SuperNova2, Quick Change and Titan2 Chucks are a key operated, 4 jaw self centering scroll chuck. The Precision Mini is a lever operated, four jaw self centering scroll chuck.
All accessories are interchangeable between our standard chuck models. NOVA are the only chuck manufacturers to offer this flexible and money saving feature – you can confidently invest in chuck accessories to further adapt your chuck product to suit your needs, whilst knowing that if you ever wanted to upgrade your chuck options, your accessories won't have to be changed, too. Quick change accessories or standard NOVA chuck accessories on the Quick Change chuck may require Retro Fit Kit in order to have this flexibility – additional purchase.
All of our chucks are the result of many, many hours of input from woodturners, engineers and mechanical specialists, not to mention over 30 years of chuck manufacturing experience.
At NOVA, we firmly believe in, and try to adopt best value in every product, including the chucks. This means finding the best possible mix between quality, features and price for you, the user of our products.
WHICH CHUCK?
The following factors should be considered when choosing which NOVA chuck best suits your needs:
Ease of use and power of clamping
Size of wood/project
Price
Spindle Size Required
FEATURES COMMON TO ALL OUR NOVA CHUCKS
Original NOVA Self Centering Design
All our NOVA chucks are four jaw, self centering scroll chucks. This means that you don't need to be exact in your measurements for holding, and this design feature allows you flexibility in both the expanding and contracting modes. The four jaw design firmly grips both round and square wood.
NOVA was the first company to bring this user friendly design to Woodturners back in 1980, a design that has since been copied and adopted by other chuck manufacturers – precisely because it is so user friendly!
Auto Safety Stop Feature
All of our chucks are designed with an automatic safety stop built into the jaw slide, preventing jaws from protruding beyond the chuck body, providing safe turning conditions.
Common Accessory Jaw Fixing Profile
NOVA Smart Design. All NOVA Chucks use the same Jaw fixing profile, which means that all appropriate accessory jaws can be fitted across the range to any NOVA chuck. Only NOVA has this unique interchangeability. You don't have to change your accessories if you upgrade or change your NOVA chuck. You only need to invest in one set of accessories, saving you money.
Special Woodturning Dovetail Profile on Jaws
NOVA Chuck jaws feature a special woodturning dovetail profile proven over 30 years and many, many thousands of chuck users. All NOVA Jaws will cut into the wood fibres, gripping firmly and provide high tear out strength. Some chucks use an engineering profile, designed to hold hard material like steel. Others use a rounded profile, which will just crush the wood fibres without digging in and holding securely. They just don't understand the nature of holding a flexible material like wood. There are a number of schools of thought as to what is the best profile. It's a bit like making furniture – some people appreciate the craftsmanship of dovetail joints and equally people make furniture with MDF and screw fastenings. The arguments about profiles for gripping wood for turning is similar.
For the purest in woodworking the perfection of the dovetail is only way to joint wood – we use this principle in the dovetail jaw profile. The dovetail joint was devised as the strongest joint to work in harmony with the nature of Wood. Equally, the NOVA Dovetail Jaw profile works in harmony with the work piece and provides the highest gripping performance, without damaging the wood.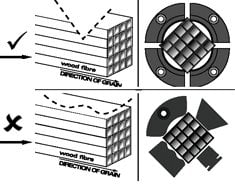 NOVA have a large number of styles of the Dovetail Profile, providing from light non marking grip to the very powerful PowerGrip™ series. The choice is dependant on the type of turning and hardness of the wood.
Insert/Adaptor System
Every NOVA chuck takes our insert/adaptor for fitting your NOVA chuck to your lathe spindle. We can fit to over 100 different lathes, so there is bound to be one to fit your lathe! For thread sizes, see HERE. This flexible system means that if you ever purchase a new lathe, or want to put your chuck onto a different lathe, it's as easy as buying a new cost effective insert/adaptor. Note: Chucks that come pre threaded into the chuck body cannot take an Insert/Adaptor system.


We also have some dedicated threaded chucks for special large thread sizes.
The insert/adaptor is precision machined from high strength K1045 medium tensile carbon steel, and features a wide mounting face and accurate diameter register for minimising run out.
Manufactured in a single operation, with spigot location to give excellent accuracy.
Safe Lock™Woodworm Screw
All NOVA Chucks are supplied with a Safe Lock™ Woodworm screw. The form of the screw has a deep fine blade which is machined right to the end of the screw. This allows an easy lead into the wood. The Safe Lock™ Woodworm Screw features a square shank and a locating groove so it can lock positively into the NOVA chuck body.
NOVA were the first to introduce the Woodworm™ Screw concept for Woodturning Chucks, back in 1988 when it was released as a standard item with the Original NOVA chuck.
Precision Machining and Quality Materials using 21st Century Manufacturing Techniques
High Tech Composite Jaw Slides
Made with high tech copper fused steel for maximum hardness, wear, and self-lubricating properties. The slides feature a strong and large section guideways, with a strong 6mm tongue. The large surface area provides long term load bearing surface wear and resitance. NOVA branded for genuine quality. The only high tech jaw slide available in chucks on the market. This precision provides exact and controlled tolerances which are required for Woodturning chucks. All NOVA jaws have identical fixing method, giving you ultimate flexibility – all accessory jaws will fit all chucks (of course, only those accessory jaws that are appropriate for that particular chucks' range are recommended to be used) For more on the jaw slides, download the fact sheet HERE.
Composite Indexing Backing Plate (SuperNova2, Quick Change Chucks) Made from ultra tough Duracon™ composite, reinforced with stranded glass fibres for extremely long life in tough conditions. Self lubricating properties and unique in built indexing function.
Scroll
Precision investment cast in high tensile carbon steel and hardened to exact tolerance after heat treatment, to ensure long life and better wear resistance.
For the chucks where gearing is a feature (all except the NOVA Precision Midi) the special Tuff Lock™ gearing profile is designed with a wide, open formed tooth that gives a fast, smooth action and unshakeable grip. This extra holding strength and stability decreases any vibration – you can extend much longer, through to small delicate stems through to large rugged pieces.
Body
Precision machined in one operation from a solid steel block for high accuracy. Made from high quality K1045 medium tensile machine steel for optimum strength and wear. After some years of using Nickel plating, we have rejected this as old, outdated technology. We use a polished self metal finish to allow for closer tolerances and accuracy.
Comprehensive Instructions
All NOVA products come with comprehensive support and instructions to enable to you get the most out of your investment.
Comprehensive Warranty
All NOVA products come with a comprehensive, no quibble warranty. The NOVA Chucks and Accessories are covered under a 6-Year Full Replacement warranty.