Home drill presses drill press accessories Nova Voyager Fence Accessory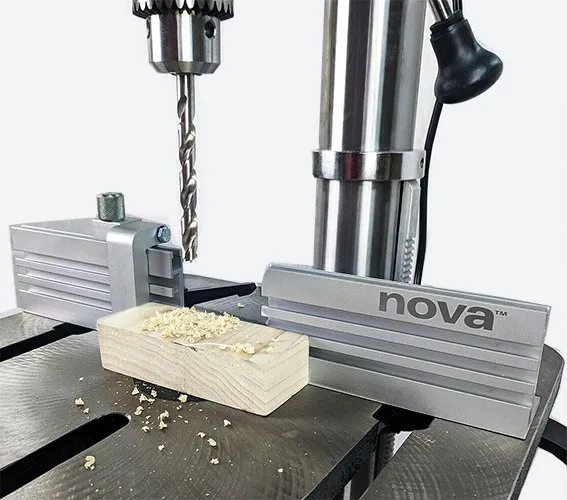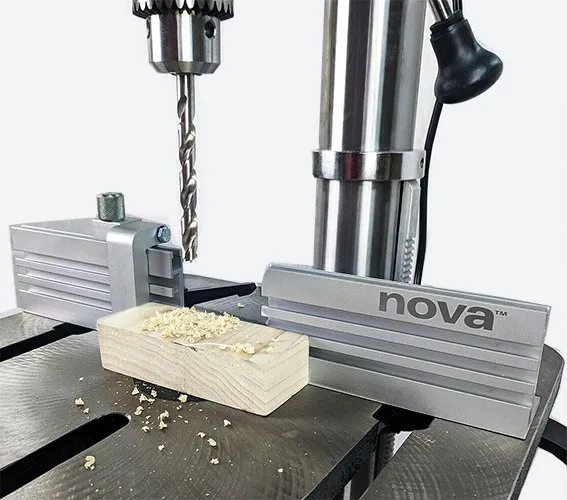 Nova Voyager Fence Accessory
First in a line of exciting accessories for the NOVA Voyager, this fence accessory will allow you to drill consistent holes along the same plane every time, as well as provide support for larger pieces of wood.
Warranty: 2-Years Full Replacement
Buy Now or find a NOVA Dealer
Product Description
QUICK START GUIDE TO FEATURES AND BENEFITS
• Heavy duty aluminium extrusion insures stability and and flatness along the length of the fence.
• Cut away center section allows you to drill with smaller bits very close to the fence so that auxiliary blocks are not needed as frequently.
• T-slots on the face and top to allow for the addition of hold downs and other devices to support the work piece.
• Flip stop for consistent positioning in repetitive drilling.
• Ratchet style locking handles to permit quick positioning and solid locking of the fence.
• Fits most Drill Presses (Check your specific machine specs)
Standard Equipment:
Extruded Aluminum Fence
Flip Stop
Handle and Fastenings
Instructions
Fence size: 15.5"/393.7mm x 3″/76.2mm x 2″/50.8mm
Packaged Weight: 2lbs/907gms
Box Dimensions: 16" x 3"  x 3.5"
2-Year Full Replacement Warranty
Only logged in customers who have purchased this product may leave a review.